HUNDREDS OF CUSTOMERS SERVED

With experience of doing hundreds of events, Maxed Productions helps alleviate the time, stress, and headache of planning and performing at your event. Make sure your event is "Maxed" whether it's a wedding, birthday, or a Saturday night at your establishment you want to remember. With passion, care, and nearly 10 years doing live events, Maxed Productions would love to be a part of your plan to make any occasion memorable!

100% FOCUS ON YOU

ENTERTAINMENT is one of the most memorable items at any given event. With Maxed Productions help, you can make your wedding, birthday, graduation, and the like one your guests will speak of fondly. Eliminate regrets about event entertainment with our budget friendly emphasis on customer service. Maxed Productions makes sure your event will be one to remember.

CUSTOMIZATION TOOLS FOR YOU

When planning your event, you want it to be unique. Maxed Productions goes above and beyond to make sure your specifications are met exactly. From the first song to the last dance, Maxed Productions wants to make sure it's about you and your plan. With an extensive planning process, we can help you detail any event exactly the way you had in mind. In need of a little help? We'd love to put our experience to use in helping plan your entertainment, music, lights, and the like.
---
SEE WHAT PREVIOUS CUSTOMERS HAVE SAID

" I have worked with DJ Max on several weddings here at the Doubletree Hotel by Hilton Grand Junction. He has always been most professional and equipped with the best music to keep guests entertained. His upbeat tune makes him a perfect voice for hosting the evening and keeping things lively. Thanks Max!!"
- Lisa Sisneros, Cater Sales Manager @ The DoubleTree by Hilton, Horizon Dr., Grand Junction

"Max did such an amazing job at my wedding. He went above and beyond. From the moment I met him, I knew he was the right dj for me. He was so kind and he cared about every little detail. He made sure to get everything right for my special day. From the time line to the songs, he made sure everything was perfect. Our introduction was perfect, he made sure to dismiss our guest for dinner in a orderly manner, so it went smoothly when it came time for my guest to eat. The toast was perfect. His equipment was wireless so everyone didn't have to go up front. Our cake cutting and first dance was perfect. He even played a Vietnamese song from my phone for my father daughter dance. And the party was awesome! The garter and bouquet toss was so fun and everyone had a great time dancing. All the songs were awesome! All my guest said This was one of the funniest wedding they have ever been to and I have to thank max for it, he was an amazing dj and I highly recommend him. Thank you max!"
- Kathy Bain, Client

​
---
Based in Grand Junction, CO, Maxed Productions is one of the premier mobile DJ services on the Western Slope of Colorado, as well as Eastern Utah. Owned by Max Ryan, Maxed Productions is a company that cares deeply about your event, whether it's a once in a lifetime wedding, an extra special birthday party, or something in between. With highly competitive rates along with great sound and light packages to take advantage of, Maxed Productions can offer you an experience you won't forget. With over 10 years of experience that includes hundreds of weddings, live shows, nightclubs, bars, birthday parties, graduation, corporate events, and more, you'll find Maxed Productions flexible enough to fit any bill. CLICK HERE TO FOR FAQ/BOOKINGS/ETC.
​
---
PHOTO SLIDESHOW
---
Powered by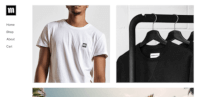 Create your own unique website with customizable templates.